Phemex, headquartered in Singapore and established in 2019, has emerged as a significant player in the cryptocurrency exchange landscape. This platform, regulated and registered with FinCEN, demonstrates a commitment to adhering to global financial standards, which is crucial in the often uncertain world of cryptocurrency. It operates globally and holds licenses for money transmission activities in multiple states, adding to its credibility.
In this comprehensive text you will learn what is Phemex, what is Phemex Token, and how to trade cryptocurrencies on Phemex. You can use our Phemex Referral Link 'IIVFD5' to get additional Phemex Tokens on registering and joining the pre-mining process. Remember crypto is risky and nothing here is financial advice!
1. Phemex Summary
Headquarters: Singapore
Year Established: 2019
Regulation: Registered with FinCEN, maintains multiple state licenses for money transmission activities.
Spot Cryptocurrencies Listed: Over 250
Native Token: Phemex Token
Maker/Taker Fees: Highest at 0.1%, lowest at 0.002%/0.03%
Security Level: High
Beginner-Friendly: Yes
KYC/AML Verification: Not required for crypto trading but necessary for fiat transactions.
Fiat Currency Support: USD, EUR, GBP, CHF, JPY, CAD
Phemex exchange lists over 250 spot cryptocurrencies, showing its extensive market reach. Phemex's native token, Phemex Token, provides users with a range of benefits, from governance power to fee discounts. This token is an integral part of the platform's ecosystem, enhancing user experience and offering added utility.
In terms of fees, Phemex stands competitive with its maker/taker fee structure, which varies from as high as 0.1% to as low as 0.002%/0.03%. This tiered fee structure caters to both casual traders and high-volume professionals. The platform's high-security standards make it a reliable choice, although it is not particularly beginner-friendly. Its KYC/AML policy strikes a balance between accessibility and regulatory compliance: while not needed for crypto transactions, it is required for fiat transactions. Phemex supports multiple fiat currencies like USD, EUR, GBP, and others, and provides various methods for crypto purchases and fiat withdrawals​​.
2. What is Phemex Crypto Exchange?
Phemex is more than just a cryptocurrency trading platform; it's a comprehensive ecosystem for crypto enthusiasts. Founded at the end of 2019, Phemex has rapidly gained traction in the crypto world, attracting over 5 million users globally. Its 24-hour trading volume of over $92 million, as of July 2023, is a testament to its growing popularity, especially impressive considering the bear market conditions prevailing at the time.
Named after the Greek Goddess of fame and fortune, Pheme, Phemex symbolizes the aspirations of many in the crypto world. It offers a range of features, including copy trading, trading contests, and an earn platform. These features are built on a highly efficient, professional-grade platform and trading engine, aiming to establish Phemex as a haven for crypto traders.
The Phemex team comprises individuals with rich experience in traditional finance (TradFi) from institutions like Morgan Stanley and seasoned Bitcoin miners. This blend of experience provides Phemex with a unique perspective in the crypto space. Despite being a newcomer, its rapid user growth and trading volume indicate a promising trajectory for the exchange.
3. Phemex Token
The Phemex Token (PT) plays a pivotal role in the Phemex ecosystem. As an ERC-20 token, it embodies the flexibility and security of the Ethereum blockchain. The total supply of PT is capped at 1 billion, ensuring a controlled circulation that could potentially aid in value retention over time.
Users can acquire PT through various means, such as conversion from xPT, purchases on the open market, or as trading rewards. The token's transferability on the Ethereum blockchain adds to its liquidity and accessibility. Staking PT yields vePT, which not only grants governance rights but also offers staking rewards and fee discounts. This functionality aligns with the decentralized ethos of the crypto world, giving stakeholders a say in the platform's governance.
The utility of the Phemex Token extends beyond governance. It can be used to pay for trading fees, deposit and withdrawal fees, and even gas fees on the exchange. This multi-faceted utility positions the Phemex Token as a valuable asset within the Phemex environment, offering users a range of benefits and incentives to engage more deeply with the platform.
If you want to learn more about Phemex Token as well as Phemex approach to web3, read their Whitepaper.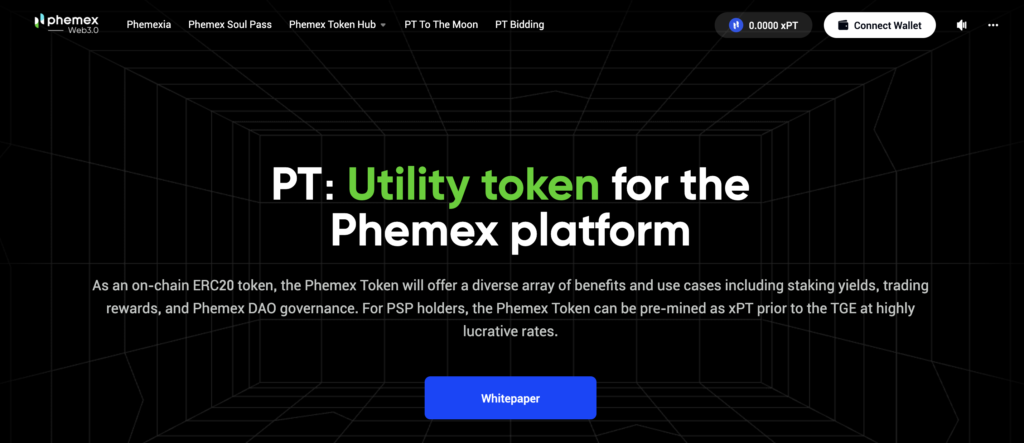 4. Phemex Exchange Key Features
Phemex has established itself as a dynamic platform by continuously evolving and adding new features. Its interface integrates the popular TradingView charting tool, making it suitable for traders at all skill levels. The platform offers a range of trading options, including spot and derivatives trading. It supports over 150 USD-M and Coin-M perpetual contracts, with up to 100x leverage available for derivatives trading.
One unique feature of Phemex is its sub-accounts. This allows traders to hold both short and long positions within the same account, ideal for strategies like hedging or isolating different trading strategies. Phemex supports the creation of up to 20 sub-accounts, which is particularly appealing for quantitative traders.
Additionally, Phemex's mobile app has been completely overhauled, adding to the platform's accessibility and user experience. These developments show Phemex's commitment to staying at the forefront of the crypto exchange market, continuously adapting and improving to meet the needs of its users​​.
5. Phemex Fees
Phemex employs a competitive fee structure that caters to a wide range of traders. The maker/taker fees vary, with the highest being 0.1% and the lowest dropping to 0.002%/0.03%. This tiered approach ensures that both casual and professional traders find value in using the platform. The lower fee brackets are particularly attractive to high-volume traders, offering a cost-effective option for those who trade frequently. This fee structure positions Phemex as an appealing choice for traders looking for a balance between cost and quality of service​​.
6. Phemex KYC and Account Verification
Phemex has a flexible approach to KYC and AML verification, balancing user convenience with regulatory compliance. While KYC is not mandatory for crypto transactions, it becomes necessary for fiat transactions. This policy allows users to engage in crypto trading with ease, yet adheres to regulatory standards when dealing with fiat currencies. Such a policy reflects Phemex's understanding of the crypto community's preference for privacy, while also acknowledging the importance of compliance in the broader financial ecosystem​.
7. Phemex Security
Security is paramount for Phemex, demonstrated by its adherence to regulatory standards and registration with FinCEN. The platform's commitment to maintaining licenses for money transmission in various states underlines its dedication to operating within the legal framework, providing users with a sense of trust and security. This high level of regulatory compliance is particularly important in the crypto space, where security and trustworthiness are key concerns for users. Phemex's approach to security is a strong selling point, particularly for those cautious about the risks associated with digital asset exchanges​​.
8. Cryptocurrencies Available on Phemex
Phemex provides a broad spectrum of trading options with over 250 spot cryptocurrencies listed. This extensive range caters to both mainstream and niche market interests, allowing users to diversify their portfolios significantly. The platform's continuous expansion in its cryptocurrency offerings indicates a commitment to staying relevant and accommodating the evolving interests of the crypto community. This variety not only attracts a diverse user base but also positions Phemex as a comprehensive platform for crypto trading​​.
9. How to buy crypto coins on Phemex
Step 1: Deposit Money on Phemex
To begin purchasing crypto on Phemex, you first need to deposit money into your account. Here's how:
Log In/Register: Sign in to your Phemex account. If you don't have an account, you'll need to create one. We recommend our Phemex Referral Link 'IIVFD5' to get additional Phemex Tokens on registering and joining the pre-mining process.
Navigate to Deposit Section: Once logged in, find the 'Deposit' option. This is found in your account dashboard and will allow you to deposit any crypto. If you're buying your first cryptocurrency, then you can choose FIAT Deposit or Credit/Debit Card deposit, using a standard bank deposit or a card deposit. Simple click on 'Buy Crypto' on top and choose the method you want to use.
Choose Deposit Method: Phemex allows deposits in both fiat and cryptocurrency. For fiat deposits, you can use methods like debit/credit cards, Apple Pay, Google Pay, or wire/bank transfers, all facilitated through third-party services. If you prefer depositing cryptocurrency, simply select the crypto you wish to deposit.
Complete the Deposit: Follow the on-screen instructions to complete your deposit. For fiat, this may involve completing a transaction with your bank or card. For crypto, you'll receive a wallet address to send your funds to.
Step 2: Buy Crypto on Phemex
Once your funds are deposited, you can buy crypto:

Access the Trading Platform: Go to the trading section of Phemex. You can click on 'Spot' and then click on 'Spot Trading' to have a simple interface of buying/selling on the spot – which means.
Select the Cryptocurrency: Choose the cryptocurrency you wish to purchase. Phemex offers a wide range of options with over 250 cryptocurrencies listed.
Choose Your Order Type: You can place different types of orders such as 'Market' (buy at the current market price) or 'Limit' (set a specific price at which you want to buy). Market orders are simpler if you're buying for the first time. You just enter how much you want to spend.
Enter Order Details: Specify the amount of cryptocurrency you want to buy and confirm the order details.
Execute the Trade: Once you're satisfied with your order details, confirm and execute the trade.
Check Your Wallet: After the purchase, check your Phemex wallet to ensure that your new cryptocurrency is reflected there.
10. Phemex Exchange Design and Usability
Phemex is designed with user experience in mind. The platform's integration of TradingView for charting enhances its appeal, offering an intuitive and familiar interface for traders. This design approach, coupled with a modular trading screen, makes Phemex accessible to traders of various skill levels. The platform's usability is a key factor in its growing popularity, as it caters to the needs of both novice and experienced traders, offering a seamless trading experience​​.
11. Phemex Features: Spot vs Perpetuals, Savings, Earn and Launchpad
Spot trading and perpetual trading are two distinct approaches to cryptocurrency trading, each with its unique features and appeal to different types of traders:
Spot Trading
Definition: Spot trading involves buying or selling a commodity, security, or cryptocurrency for immediate settlement on a specified spot date. In crypto, this means buying or selling digital currencies at their current market prices.
Characteristics:

Immediate transaction: The trade is executed instantly at current market prices.
Ownership: Traders actually own the cryptocurrency they purchase.
Simplicity: Generally easier for beginners to understand.
Perpetual Trading
Definition: Perpetual trading, particularly in crypto, refers to perpetual contracts. These are types of futures contracts but without an expiry date, allowing traders to hold positions indefinitely.
Characteristics:

Leverage: Traders can use leverage, meaning they can open larger positions with a smaller amount of capital.
Speculation on price movement: Traders can speculate on both rising and falling markets.
Complexity: More complex and involves higher risks, suitable for experienced traders.
Phemex Earn, Savings, and Launchpad
Phemex Earn: Offers opportunities to earn interest on cryptocurrency holdings. It includes flexible savings products with no lock-in periods and fixed savings accounts for higher interest rates with specified terms.
Phemex Savings: Part of Phemex Earn, it allows users to deposit cryptocurrencies and earn interest. It caters to different risk appetites with flexible and fixed savings options.
Phemex Launchpad: A platform for early access to new crypto projects and tokens. It's similar to launchpads on other exchanges, allowing users to buy tokens at an early stage, often at a lower price before they are listed on the broader market.
These features on Phemex cater to a wide array of crypto enthusiasts, from those looking to actively trade to those interested in earning passive income through their crypto assets.
This detailed exploration provides a thorough understanding of Phemex and its various aspects, showcasing its strengths and offerings in the cryptocurrency exchange market.