Welcome to the exciting world of cryptocurrency trading on MEXC, one of the industry's burgeoning crypto exchanges. Whether you're a seasoned trader or just starting with crypto, this ultimate crypto tutorial will guide you through the ins and outs of the MEXC Crypto Exchange and crypto in general.
Let's dive in!
---
Table of Contents
---
Introduction to MEXC Crypto Exchange
Welcome to the exciting world of cryptocurrency trading on MEXC, one of the industry's burgeoning platforms. Whether you're a seasoned trader or just starting, this tutorial will guide you through the ins and outs of the MEXC Crypto Exchange. Let's dive in!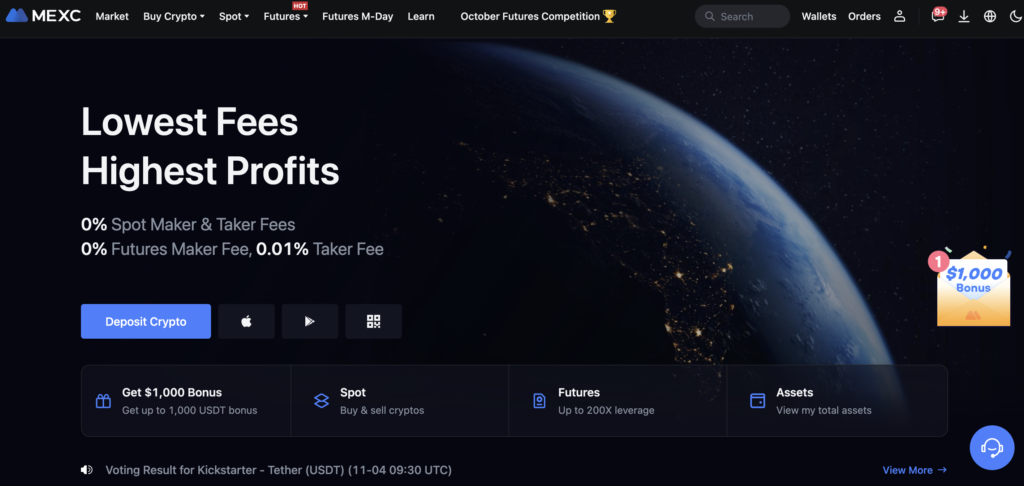 1.1. Overview of MEXC
MEXC Global, or simply MEXC, is a cryptocurrency exchange that offers a platform for buying, selling, and trading a vast array of digital assets. Established in 2018, MEXC has quickly risen to prominence in the crypto space thanks to its user-friendly interface, wide range of available cryptocurrencies, and commitment to security and compliance.
At its core, MEXC is designed to be accessible to traders of all experience levels while providing advanced features that cater to the needs of professional traders. It's a platform that combines spot and futures trading, allowing users to diversify their trading strategies.
Key Features:
Spot Trading: Buy and sell a wide variety of cryptocurrencies instantly.
Futures Trading: Engage in contracts that bet on the future price of crypto assets.
Staking: Earn rewards by staking eligible cryptocurrencies.
API Access: Automate trading strategies through MEXC's robust API.
Mobile App: Trade on the go with the comprehensive MEXC mobile app.
Security: Advanced security measures protect users' funds and data.
1.2. Benefits of Using MEXC
Why choose MEXC over other exchanges? Here are some compelling advantages:
Comprehensive Selection of Cryptocurrencies
MEXC stands out for its extensive list of supported cryptocurrencies, providing traders with the opportunity to trade in both well-known and emerging digital assets.
User-Friendly yet Powerful
The platform strikes a balance between being user-friendly for beginners and providing powerful tools for seasoned traders, such as advanced charting tools, a variety of order types, and detailed market analysis.
Competitive Fees
MEXC offers competitive trading fees, which can decrease even further for high-volume traders or through the use of its native token, MX.
Robust Security
MEXC takes security seriously, employing a multi-tier and multi-cluster system architecture, along with full data encryption and a comprehensive set of risk control measures to safeguard users' assets.
Global Reach
With support for multiple languages and a broad range of countries, MEXC serves a global audience, making it a versatile platform for international traders.
24/7 Customer Support
MEXC provides around-the-clock customer support to address any issues or questions, helping to ensure a seamless trading experience.
1.3. Understanding the Interface
Navigating the MEXC interface is straightforward. Here's a quick rundown of the primary elements you'll encounter:
Homepage
When you first visit MEXC, you'll find a clean and organized homepage displaying the latest market movements, quick access to trading pairs, and the latest news and updates about the platform.
You can access all features on MEXC through the menu on top that has the following features:
Market: access crypto market insights, trending coins and market news.
Buy Crypto: start with buying your first crypto using bank transfer or credit card.
Spot: trade crypto on the spot.
Futures: use leverage and perpetual futures.
Futures M-Day: special event.
Learn: educate yourself on how to trade in crypto markets.
Wallets: access your wallets on MEXC.
Orders: browse your trading history.
Profile: access your profile settings, from security to API.

Trading View
The trading view is where you'll spend most of your time. It provides a detailed chart, order books, market trades, and the ability to place various order types. It's customizable, allowing you to arrange the layout to your preference.
Wallet
The wallet section of MEXC is where you can manage your funds. It's where you'll make deposits and withdrawals, view transaction history, and see your total balance across different cryptocurrencies.
Futures and Derivatives
MEXC offers a separate section for futures and other derivative products. This is where traders can go long or short on cryptocurrencies, with the option to use leverage to amplify their trades.
Account Management
Your account settings are vital for managing your personal information, security settings (like 2FA), and any API keys you create for automated trading.
Mobile App Interface
The MEXC mobile app mirrors the functionality of the desktop version in a compact form. It's designed for trading on the go, with the ability to get push notifications about trades and market movements.
For new users, it's recommended to take some time to click around the interface to familiarize yourself with the various sections and tools available. MEXC also provides a handy tour when you first sign up, guiding you through the main features of the exchange.
In the next chapter, we'll walk through the process of setting up your MEXC account, ensuring you have a solid foundation to begin trading on the platform.
Starting from Zero: Setting Up Your MEXC Account
Embarking on your journey into the world of cryptocurrency begins with the essential step of setting up your trading account. MEXC provides a seamless process for this, ensuring that even those new to crypto can start without hassle. Here's how to create your MEXC account and secure it.
2.1. Creating a MEXC Account
Creating an account with MEXC is a simple process:
Step 1: Visit the Official MEXC Website
Step 2: Registration
Click on the 'Sign Up' button. This is usually located at the top right corner of the homepage.
Enter your email address. Make sure it's an email you have secure access to, as it will be central to your account security.
Create a strong password. Your password should be unique and not used on any other site. It should contain a mix of letters, numbers, and special characters.
Referral Code (optional). If you have a referral code, enter it here to potentially receive signup bonuses or discounts on trading fees. Our MEXC referral code is 'mexc-pccrypto'.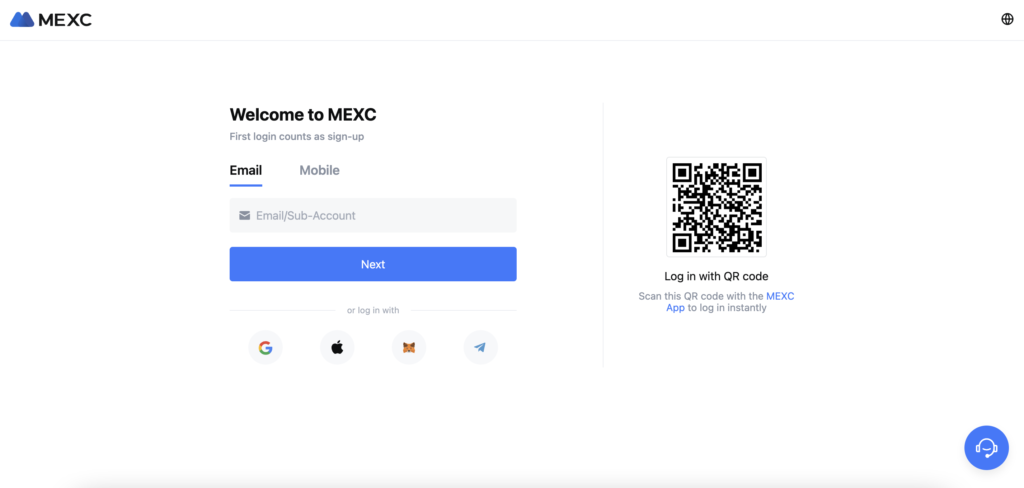 Step 3: Email Verification
Check your email. MEXC will send you a verification email. Click on the link within to activate your account.
Complete CAPTCHA verification. This may be required to confirm you're not a bot.
Step 4: Log in to Your Account
Return to MEXC and log in with your new credentials.
Congratulations! You've now successfully created your MEXC account. The next crucial step is securing it.
2.2. Account Security: Setting Up 2FA
Two-factor authentication (2FA) adds an extra layer of security to your account. Even if someone gets your password, they won't be able to access your account without the second verification method.
Step 1: Navigate to Security Settings
Access your account settings. Once logged in, find your profile or the security section, usually indicated by a person icon in the top right corner next to 'Wallets' and 'Orders'.
Find the 'Security' section. Look for an option labeled "Two-Factor Authentication" or "2FA".
Step 2: Choose 2FA Method
Select an authentication method. MEXC may offer various options, like SMS authentication or Google Authenticator. The recommended method is an authenticator app because it's more secure than SMS.
Step 3: Set Up the Authenticator
Download a 2FA app. If you choose an authenticator app like Google Authenticator, download it from your phone's app store.
Scan the QR code provided by MEXC using the authenticator app.
Enter the code from the app into the MEXC website to link the two.
Step 4: Backup Your 2FA
Save the backup key. MEXC will provide a backup key when you set up 2FA. Store this key in a safe place—it's critical if you ever lose access to your 2FA device.
2.3. Navigating the Dashboard
Once your account is set up and secure, familiarizing yourself with the MEXC dashboard is next.
Overview of the Dashboard
Account Summary: This area displays your wallet balance, including total assets and their equivalent value in fiat currency.
Market Information: Here you can see live price feeds, market trends, and access trading pairs quickly.
Quick Trade Links: These are shortcuts to deposit, withdraw, transfer, and trade functions.
Latest Transactions: View your most recent trades or transfers for easy tracking.
Understanding Menu Options
Wallet: Manage your deposits, withdrawals, and see your transaction history.
Spot Market: Access the trading interface to buy and sell cryptocurrencies.
Futures Market: Navigate to futures trading if you're interested in leveraged trading.
Orders: Check open orders, order history, and manage your trades.
Customizing Your View
Adjust settings: Tailor the dashboard to your preferences, such as changing themes or setting up notifications.
Create Watchlists: Monitor specific cryptocurrencies by adding them to your watchlist for quick access.
The dashboard on MEXC is designed to be intuitive. Spend some time clicking through the various sections and familiarize yourself with the features at your disposal. This exploration will pay off as you become more involved in trading.
With your account now set up and your dashboard demystified, you're ready to take the next step into funding your account, which we will cover in the following chapter.
Maximizing Benefits with the MEXC Referral Code
Engaging in cryptocurrency trading on MEXC becomes even more rewarding when you take advantage of the referral program. By using a referral code, both the referrer and the new user can enjoy additional benefits. Here's what you need to know about using our MEXC referral code and why it's advantageous for you.
What is the MEXC Referral Code?
The MEXC referral code is a unique identifier that links a new sign-up to the referrer's account. When a new user registers on MEXC with this code, they become eligible for certain rewards or fee discounts that might not be available through a standard sign-up process.
Why Use Our MEXC Referral Code?
Exclusive Benefits
When you sign up with our referral code 'mexc-pccrypto', you may be entitled to exclusive rewards such as:
Trading Fee Discounts: Receive a significant discount on trading fees, allowing you to save money with every trade you make.
Welcome Bonuses: Enjoy welcome bonuses that may include free tokens or other perks.
Commission Kickbacks: Get a portion of your trading fees back, which can add up to a considerable amount over time.
Long-Term Rewards
The benefits of using our referral code extend beyond the initial sign-up bonuses. Depending on the MEXC referral program's structure at the time of your registration, you might also enjoy:
Referral Earnings: Earn a percentage of the trading fees from users who sign up through your own referral code in the future.
Special Promotions: Gain access to special promotions and events exclusively available to users who have signed up with a referral code.
Support and Community
Using our MEXC referral code 'mexc-pccrypto' also connects you with a community of traders who are eager to share their knowledge and experiences. This can include:
Educational Resources: Get tips and guidance on how to navigate MEXC and make informed trading decisions.
Community Support: Join a network of traders where you can learn new strategies and stay updated on the latest market trends.
How to Use the MEXC Referral Code
Using the referral code is a simple process:
Obtain the Code: First, you'll need to get the referral code from us, which is 'mexc-pccrypto'.
Register on MEXC: Go to the MEXC sign-up page and enter the referral code 'mexc-pccrypto' in the designated field during the registration process.
Complete the Sign-Up: Fill in the rest of your details to complete the sign-up process.
Start Trading: Begin trading and enjoy the benefits associated with the referral code.
Remember that the exact benefits may vary based on MEXC's current referral program terms and conditions. It's always a good idea to review these terms to understand fully the advantages you'll receive when using our referral code.
In conclusion, by using our MEXC referral code, you're not just stepping into the world of crypto trading; you're also ensuring that your journey starts with added benefits and a community backing. Sign up with confidence and make the most of the exclusive perks that come with our referral code.
Fund Your Account: Buy Crypto with Bank Deposit or Credit Card
Before you can start trading on MEXC, you'll need to fund your account. One of the most straightforward methods to do this is by making a bank deposit. Below, we outline the steps to deposit funds into your MEXC account from your bank and how to buy your first cryptocurrency.
Here are the methods available for buying cryptocurrency on MEXC:
Debit/Credit Card: This method allows users to purchase cryptocurrencies directly with their debit or credit card. It's often a quick and straightforward option for those looking to make an immediate purchase.
Global Bank Transfer: With this feature, users can perform bank transfers to fund their MEXC account. Specifically, it mentions SEPA, which stands for Single Euro Payments Area, indicating that this method is likely efficient for users within the European region to perform EUR transfers.
Quick Buy/Sell: This function provide a fast and secure way to transact digital assets. It's likely designed for users who wish to make prompt trades without navigating through complex trading interfaces.
P2P Trading: Peer-to-peer (P2P) trading allows users to buy and sell cryptocurrencies directly with one another. This can include a variety of payment methods, potentially extending beyond bank transfers to include other options like online wallets and payment apps.
MEXC MasterCard: MEXC offers its own MasterCard that supports global consumption. Users can use this MasterCard to spend their cryptocurrencies or possibly to purchase crypto directly.
Each method offers different advantages, whether it's speed, convenience, or direct peer-to-peer interaction. Users can select the option that best suits their needs for entering into the world of cryptocurrencies.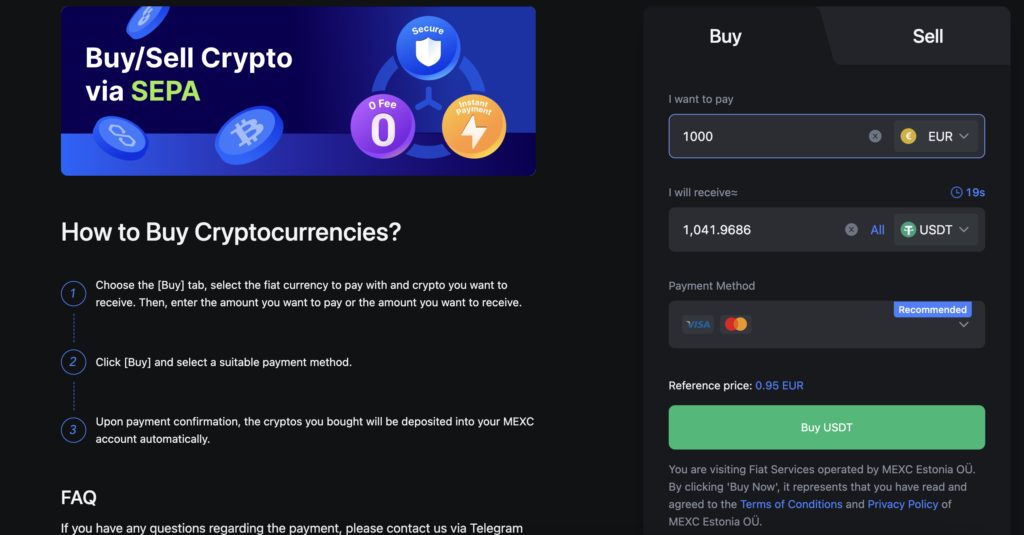 Let's now jump in to bank deposits on MEXC.
3.1. How to Make a Bank Deposit on MEXC
Step 1: Access the Buy Section
To buy crypto just click on 'Buy Crypto' in the top left corner and pick Global Bank Transfer or Debit/Credit Card if you prefer that method.
Alternatively Navigate to the Wallet: After logging into your MEXC account, go to the 'Wallet' section and click on 'Deposit'. This will allow you
Step 2: Choose Your Currency and Payment Method
Select your currency: Choose the fiat currency that corresponds to your bank account to avoid additional exchange fees.
Choose 'Bank Transfer': Among the payment methods available, select 'Bank Transfer'.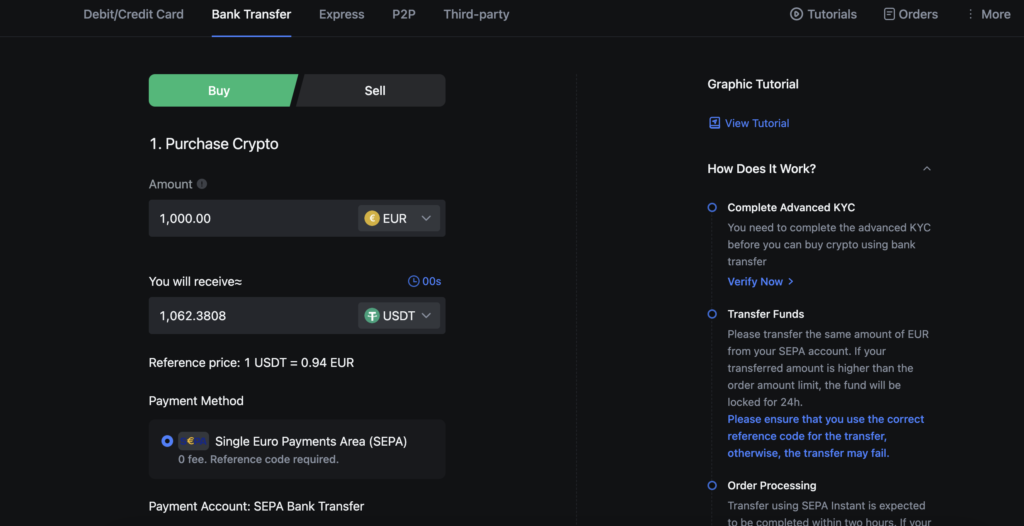 Step 3: Input Deposit Details
Enter the deposit amount: Specify how much money you want to deposit into your MEXC account.
Provide bank details: Enter your banking information, including the account number and routing number if necessary.
Step 4: Confirm the Transaction
Review the details: Double-check that all the information is correct to avoid any delays or issues.
Confirm the deposit: Submit the transaction and follow any additional instructions provided by MEXC to authorize the deposit from your bank account.
3.2. Verifying Your Account for Bank Transfers
To comply with financial regulations, MEXC requires users to verify their identity before they can perform bank transfers. This process is often referred to as Know Your Customer (KYC).
Step 1: Begin the Verification Process
Go to Account Settings: Look for a section labeled 'Verification' or 'KYC'.
Start the KYC Process: Follow the prompts to begin.
Step 2: Provide Personal Information
Fill out the form: Enter your personal details, including your full name, date of birth, and address.
Upload identification: Submit a government-issued ID and possibly a proof of address document, such as a utility bill.
Step 3: Complete Any Additional Steps
Facial Recognition: Some platforms may require a facial recognition step using your webcam or smartphone camera.
Wait for Verification: The process can take anywhere from a few minutes to several days, depending on the platform and user volume.
3.3. Fees and Transaction Times
The fees and transaction times for bank deposits can vary based on several factors:
Deposit Fees: Some banks and exchanges charge a fee for depositing money. MEXC might charge a small fee, or it may be free, but be sure to review this before you confirm your deposit.
Bank Fees: Your bank might also charge a fee for the transfer, especially if there's a currency conversion involved.
Transaction Times: Bank transfers usually take a few business days, but the exact time can vary. It's not instant, so plan your trades accordingly.
3.4. Purchasing Your First Cryptocurrency
Once your funds have arrived in your MEXC account, it's time to purchase your first cryptocurrency (unless of course you have already done that with a credit card).
Step 1: Go to the Spot Market
Find the 'Spot' section on top: Click on SPOT then Spot to access a trading desk. Alternatively you can choose Buy Crypto and then choose a Debit/Credit Card ot Global Bank transfer to buy your first cryptocurrency with a SEPA transfer
Select a Trading Pair: Choose the pair that corresponds to your deposited fiat (e.g., BTC/USDT if you bought USDT stablecoin with your bank deposit). If you're buying your first crypto you can choose USDT – this is a stablecoin cryptocurrency that tries to track dollar price and usually costs around $1. With USDT you will be able to trade other crypto coins like BTC, SOL or ETH, by choosing a pair BTC/USDT or SOL/USDT, etc.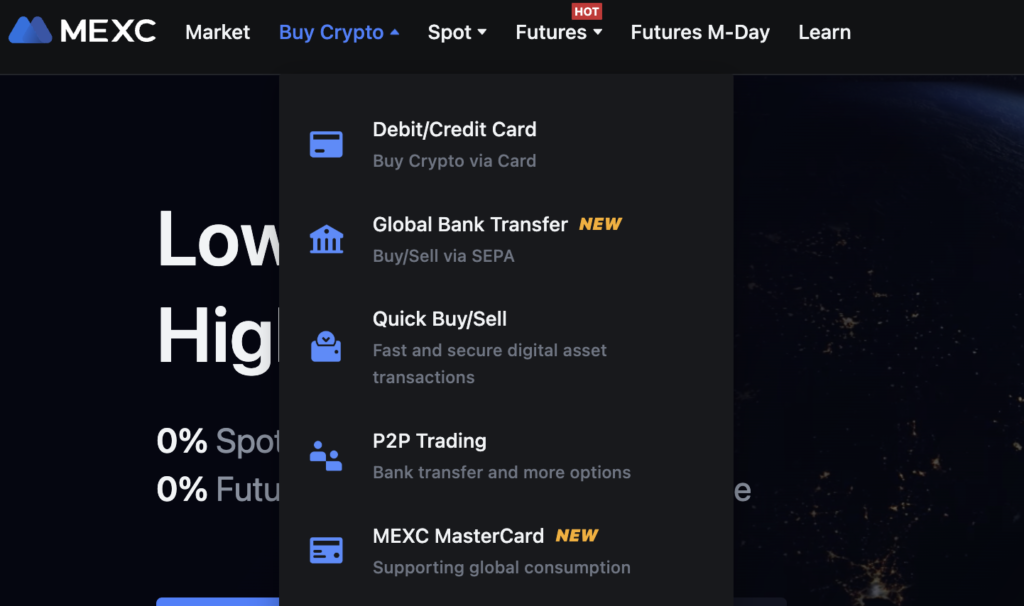 Step 2: Place an Order
Choose 'Buy': Enter the 'Buy' section of the chosen trading pair.
Select Order Type: Choose between a 'Market' order for an instant purchase at the current price, or a 'Limit' order to set a price you're willing to pay and wait for the market to match it.
Enter Amount: Specify how much of the cryptocurrency you want to buy.
Step 3: Review and Confirm
Check the details: Ensure the order looks correct, including the total cost and the fees that will be charged.
Confirm the purchase: Complete the transaction.
Step 4: Secure Your Investment
Consider transferring your new crypto to a private wallet: For added security, you might want to keep your cryptocurrency in a private wallet rather than on the exchange.
Congratulations! You've now funded your MEXC account and purchased your first cryptocurrency. This is just the beginning of your trading journey. As you become more comfortable with the process, you can explore more sophisticated trading strategies and investment opportunities.
SPOT Trading on MEXC
SPOT trading on a cryptocurrency exchange like MEXC involves buying and selling digital assets like Bitcoin, Ethereum, and a myriad of altcoins at their current market price. This section will cover the essentials of SPOT trading on MEXC, from understanding what it is to executing trades and developing strategies.
4.1. Understanding SPOT Trading
SPOT trading in the context of cryptocurrency refers to the direct purchase or sale of cryptocurrencies for immediate delivery. In contrast to futures trading, which involves agreements to buy or sell assets at predetermined prices in the future, SPOT trading transactions are settled "on the spot."
Key Features of SPOT Trading
Immediate Settlement: Transactions are completed as soon as the order is filled.
Market Prices: You trade assets at current market prices, which can fluctuate rapidly.
Ownership: Once a SPOT trade is complete, you own the asset and can transfer it off the exchange if desired.
4.2. How to Execute a SPOT Trade on MEXC
Executing a SPOT trade on MEXC involves a straightforward process:
Step 1: Access the Trading Platform
Go to the 'Spot' tab on the main navigation bar and select 'Spot Trading'.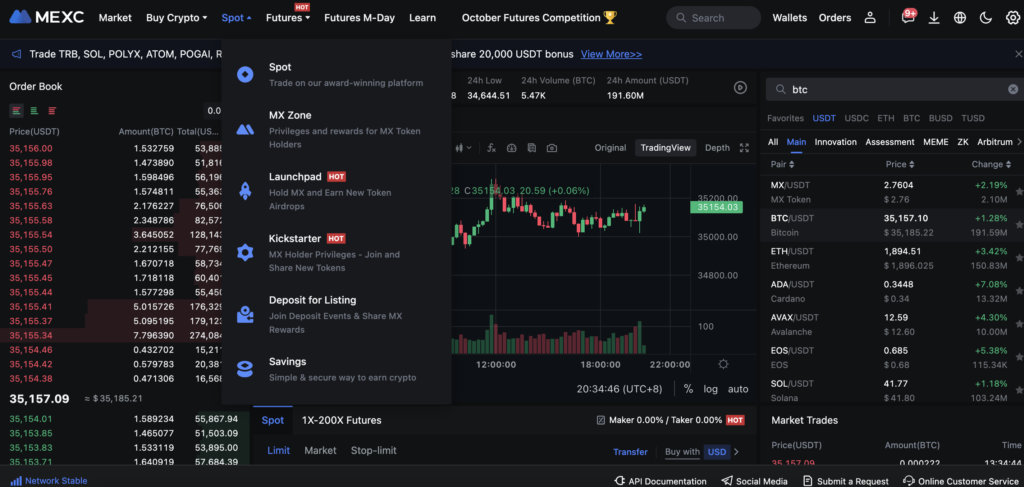 Step 2: Choose the Trading Pair
Select a trading pair from the list or use the search function to find a specific cryptocurrency pair (e.g., BTC/USDT like on the screen above – this is a default pair too).
Step 3: Choose the Order Type
Decide on the order type: 'Market' orders fill at the best available current price, while 'Limit' orders set a price at which you're willing to buy or sell. Market orders are the easiest as you just buy.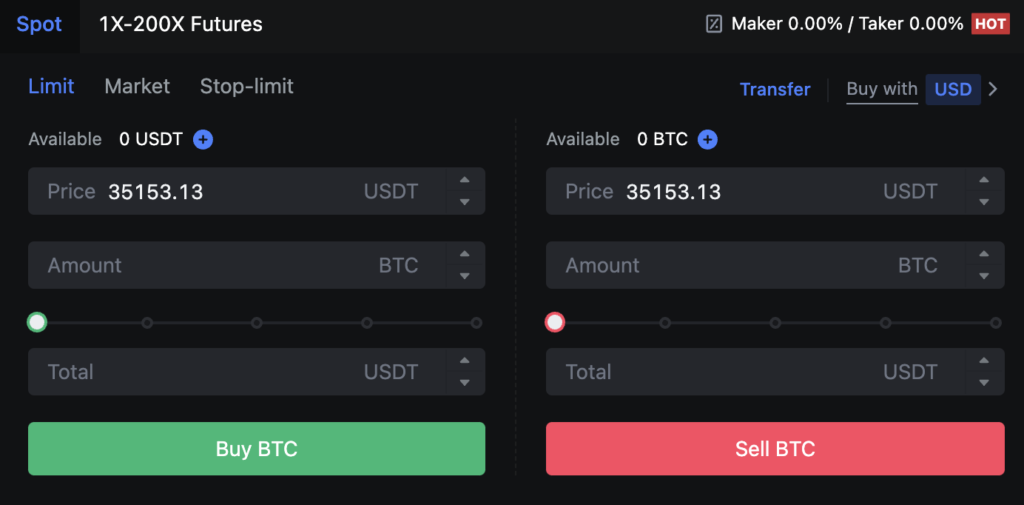 Step 4: Enter Order Details
Specify the quantity: Enter how much of the cryptocurrency you wish to buy or sell.
Set the price: If you're placing a limit order, set the price at which you want the order to execute.
Step 5: Review and Confirm the Trade
Review your order: Make sure all details are correct.
Place the order: Confirm and watch for it to be filled according to market conditions.
4.3. Analyzing SPOT Markets: Understanding the Charts
To make informed trading decisions, understanding how to read and analyze the charts provided by MEXC is crucial.
Types of Charts
Line Charts: Provide a basic overview of price movements over a certain period.
Candlestick Charts: Offer detailed information on open, high, low, and close prices in set time frames, allowing for more in-depth analysis.
Reading Candlestick Charts
Candlestick Body: Shows the opening and closing price.
Wicks: Indicate the high and low prices during the chosen timeframe.
Patterns: Certain patterns can suggest potential price movements.
Technical Indicators
Moving Averages: Indicate the average price over a specific period, helping to identify trends.
Volume: Displays the number of assets traded, offering insights into market activity.
4.4. Trading Strategies for SPOT Trading
Developing a trading strategy is fundamental to being successful in SPOT trading. Here are a few strategies traders often use – remember you have to do your own research and nothing here is financial advice. We only write an educational guide to give you the first steps to trading cryptocurrencies like Bitcoin or Shiba Inu or Luna.
Fundamental Analysis
Research: Look into market news, technological advancements, and economic indicators that might affect the value of cryptocurrencies.
Long-term Potential: Consider the project's long-term viability when choosing assets for SPOT trading.
Technical Analysis
Trend Following: Identify and follow the market trend to make buy or sell decisions.
Swing Trading: Take advantage of price "swings" in the market by capturing gains within a larger market movement.
Day Trading: Buy and sell on short-term movements within a single trading day to capture immediate profits.
Risk Management
Set Stop-Losses: To mitigate losses, set a stop-loss order to automatically sell your assets if the price drops to a certain level.
Diversify: Spread your investments across different assets to minimize risk.
Successful SPOT trading on MEXC requires an understanding of the platform's tools and features, as well as a solid grasp of market analysis and risk management. By utilizing the various charts, indicators, and trading strategies available, you can navigate the SPOT markets more effectively and make decisions that align with your investment goals and risk tolerance.
Other SPOT Features
All Spot Features on MEXC include:
Spot: This refers to the spot trading feature which allows users to trade cryptocurrencies instantly on MEXC's platform, which has been touted as "award-winning." It is likely a primary function of the exchange, enabling the buying and selling of a wide range of cryptocurrencies at market prices.
MX Zone: This feature offers special privileges and rewards for holders of MX Token, which is presumably the native cryptocurrency of the MEXC exchange. Holders of MX Token might enjoy benefits such as reduced trading fees, exclusive access to events, or other promotional rewards.
Launchpad: Marked as "HOT," this suggests it is a popular or new feature. The Launchpad allows users who hold MX tokens to earn new token airdrops, possibly giving them early access to new cryptocurrencies or projects launched on the MEXC platform.
Kickstarter: This feature is also labeled as "HOT," indicating it may be a new or widely used service. Kickstarter offers MX Token holders certain privileges, including the opportunity to join and share in new tokens, which might be a way for users to support and gain from new projects or token launches.
Deposit for Listing: This feature encourages users to participate in deposit events and potentially share MX rewards. It might involve incentives for users to deposit certain cryptocurrencies with the possibility of those tokens being listed on MEXC, and sharing rewards in the form of MX tokens.
Savings: Described as a simple and secure way to earn crypto, this is likely a service that allows users to earn interest on their cryptocurrency holdings, similar to a savings account, but for digital assets. Users can deposit their crypto and earn passive income based on the amount and duration of their deposits.
These features combined suggest that MEXC provides a comprehensive ecosystem for crypto traders and investors, with various ways to engage with the platform beyond simple trading.
MEXC FUTURES Trading
FUTURES trading on MEXC involves speculating on the future price of cryptocurrencies and offers the opportunity to profit from both rising and falling markets. This chapter will guide you through the basics of FUTURES trading, the differences between SPOT and FUTURES, and how to effectively manage risks.
5.1. Introduction to FUTURES Trading
FUTURES contracts are agreements to buy or sell an asset at a predetermined price at a specified time in the future. Unlike owning the asset directly, you're speculating on the future price movement of the cryptocurrency.
USDT-M vs COIN-M Futures
USDT-Margined (USDT-M) Futures are derivative contracts that use the stablecoin Tether (USDT) for collateral and settlement. The primary advantage of USDT-M Futures is the stability provided by the USDT, which remains pegged to the US dollar, reducing the complexity of dealing with crypto's price volatility. These contracts are typically cash-settled and do not involve the delivery of the underlying cryptocurrency, making them simpler for those with a background in traditional finance. They offer variable leverage and are used for both speculation and hedging, allowing traders to amplify potential profits (or losses) based on the future price movements of cryptocurrencies like BTC or ETH.
In contrast, Coin-Margined (COIN-M) Futures are settled in the actual cryptocurrency that is being traded, such as Bitcoin or Ethereum. This type of futures contract is preferred by traders who wish to stay within the crypto ecosystem and are comfortable managing the additional volatility that comes with using the actual coin as collateral. While they also offer leverage options, the contracts' value fluctuates with the price of the underlying cryptocurrency, which can significantly impact all aspects of the trading contract. COIN-M Futures are more suited to those looking for long-term positions and who are looking to potentially benefit from holding the underlying crypto asset.
Usually USDT-M Futures are simpler, as they pretty much have the same price as the standard SPOT price for the asset.
For example on the screen below the price of PEPE-USDT Perpetual Future is pretty much the same as the spot price for PEPE coin in USDT. The price won't be always the same for the futures asset and the spot asset and there are investors profiting from the difference, but that's another topic.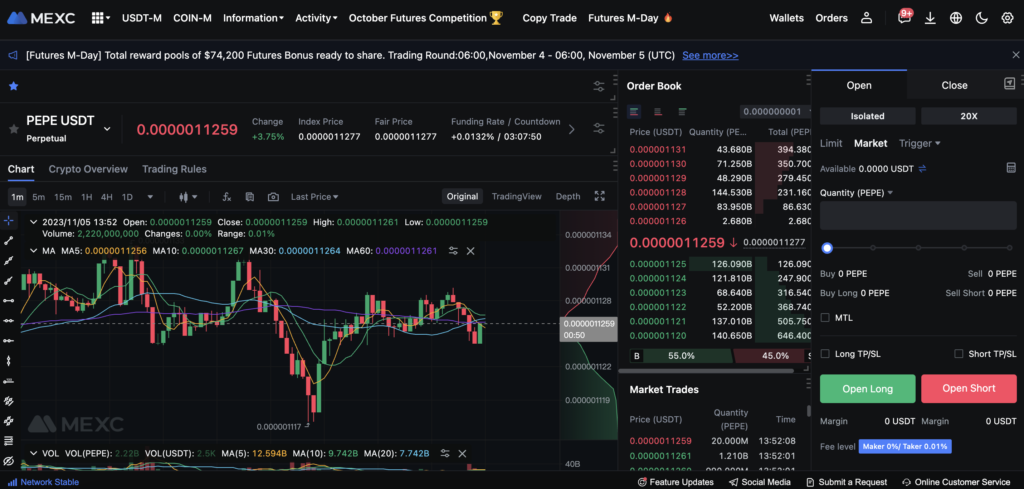 Key Aspects of FUTURES Trading
Leverage: Allows traders to open positions with more capital than they have in their account, amplifying both gains and risks.
Going Long or Short: You can bet on both rising (long) and falling (short) market prices.
Settlement Dates: Contracts have expiration dates by which the contract must be settled.
5.2. The Differences Between SPOT and FUTURES Trading
While SPOT trading involves the immediate exchange of cryptocurrencies, FUTURES trading allows for the buying and selling of contracts representing the value of the crypto assets.
Main Differences
Ownership: In SPOT trading, you own the asset immediately after purchase. In FUTURES, you own a contract, not the asset itself.
Leverage: FUTURES trading often involves leverage, while SPOT trading typically does not.
Expiration Date: FUTURES contracts have expiration dates, whereas SPOT trades do not. The unique product in Crypto Markets is Perpetual Futures with no expiration date. It's still a contract though, which means you can't withdraw it in any way.
5.3. How to Trade FUTURES on MEXC
Trading FUTURES on MEXC requires understanding how to navigate the FUTURES market and execute trades.
Step 1: Access the FUTURES Trading Interface
Select the 'Futures' tab on MEXC and choose 'Perpetual Futures' and choose either USDT-M or COIN-M.
Step 2: Select the Contract Type
Choose a perpetual or traditional FUTURES contract based on your preference and strategy. You can choose Copy Trade or Demo Trading if you are just getting started.
Step 3: Set Up Your Trading Position
Choose the Leverage: Decide on the amount of leverage you wish to use, keeping in mind that higher leverage increases both potential profit and risk.
Pick Long or Short: Decide whether you want to open a long (buy) or short (sell) position based on your market analysis.
Step 4: Place the FUTURES Order
Select the order type: Similar to SPOT trading, you can choose between market and limit orders.
Specify the size: Enter how many contracts you wish to purchase.
Set any additional order features: This might include stop-loss or take-profit levels.
Step 5: Monitor and Close Your Position
Monitor the market: Keep an eye on the market as FUTURES prices change in real-time.
Close your position: When ready, you can manually close your position or let your stop-loss/take-profit orders do it automatically at your predetermined price.
5.4. Risk Management in FUTURES Trading
Risk management is critical in FUTURES trading due to the amplified risks that come with leverage.
Implementing Risk Management Strategies
Use Stop-Loss and Take-Profit Orders: Automate exits from positions to lock in profits and prevent significant losses.
Start Small: Begin with smaller positions to understand the dynamics of leverage and its impact on your trades.
Monitor Margin and Liquidation Levels: Keep an eye on your account's margin balance to avoid liquidation.
Stay Informed: Be aware of market news and events that could affect the prices of the FUTURES contracts you're trading.
Psychological Aspects
Maintain Discipline: Stick to your trading plan and avoid emotional decisions.
Continuous Learning: Always look for opportunities to improve your trading skills and knowledge.
Trading FUTURES on MEXC can be a powerful way to engage with the cryptocurrency markets. However, it's important for traders to have a thorough understanding of the mechanisms of FUTURES trading and to use risk management tools effectively to protect their investments. Whether you're a beginner or an experienced trader, approaching FUTURES with caution and respect for the potential risks will help in achieving a more sustainable trading career.
Advanced Trading Tools and Features
To maximize opportunities and efficiency in cryptocurrency trading, MEXC offers a suite of advanced trading tools and features. Understanding and utilizing these can greatly enhance a trader's ability to manage risk and execute strategies.
6.1. Stop-Loss and Take-Profit Strategies
Stop-loss and take-profit orders are essential risk management tools used to limit potential losses and lock in profits without the need to monitor positions constantly.
Stop-Loss Orders
Purpose: Automatically sell a security when it reaches a certain price to prevent further losses.
Strategy: Set stop-loss orders at price levels where your market outlook is invalidated, or your acceptable loss threshold is breached.
Take-Profit Orders
Purpose: Set to automatically close a position once a certain profit level is reached.
Strategy: Place take-profit orders at price targets set by your trading strategy or when the potential upside no longer outweighs the risk.
Implementation Tips
Percentage Method: Determine stop-loss and take-profit levels based on a percentage of your account balance.
Technical Indicators: Use support/resistance levels, moving averages, or other indicators to set these orders.
Risk-Reward Ratio: Keep a healthy risk-reward ratio, commonly 1:2 or higher, meaning the potential profit is at least twice the potential loss.
6.2. API Trading on MEXC
For traders looking for more automation and advanced functionality, MEXC offers API (Application Programming Interface) trading.
Benefits of API Trading
Automated Trading: Execute trades automatically based on predetermined conditions or signals from trading algorithms.
Custom Tools: Build custom trading tools for analysis, order execution, or portfolio management.
High-Frequency Trading: Place orders at high speeds, taking advantage of price discrepancies or market inefficiencies.
How to Use API Trading on MEXC
Generate API Keys: Access your account settings on MEXC to generate API keys.
Integrate with Trading Software: Use the API keys with your trading software to start automated trading.
Set Permissions and Limits: Configure the permissions for your API keys, such as read-only, trading, or withdrawal access, and set limits to enhance security.
6.3. Margin Trading: An Overview
Margin trading allows traders to borrow money to increase their trading position, amplifying potential returns as well as potential losses.
Key Components of Margin Trading
Leverage: Borrow funds to increase the size of a trade beyond what would be possible with your account balance.
Margin: The amount of capital required in your account to open and maintain a leveraged position.
Liquidation: If the market moves against your position and your margin balance falls below the maintenance margin, your position may be liquidated to cover the losses.
Margin Trading Strategies
Conservative Leverage: Utilize lower levels of leverage to maintain a buffer against market volatility.
Diversification: Spread your margin across various assets to reduce the impact of a loss in any single trade.
Continuous Monitoring: Margin positions require close monitoring due to the possibility of rapid changes in margin requirements.
Risks and Considerations
Amplified Losses: Just as gains can be magnified, so can losses.
Interest Costs: Borrowing funds incur interest, which can accumulate over time, especially with long-term positions.
Market Volatility: Cryptocurrency markets are notoriously volatile; unexpected price swings can quickly deplete margins.
Advanced trading tools like stop-loss/take-profit orders, API trading, and margin trading are powerful when used correctly but can increase risk. Traders on MEXC should thoroughly understand these tools and the associated risks, and should ideally practice using them in a simulated environment if possible before applying them to live trades. As with all trading activities, continuous education, strategy refinement, and disciplined risk management remain the cornerstones of successful cryptocurrency trading.
Staking and Earning on MEXC
7.1. Understanding Staking
In the context of cryptocurrency, staking is the process of actively participating in transaction validation (similar to mining) on a proof-of-stake (PoS) blockchain. On these blockchains, anyone with a minimum-required balance of a specific cryptocurrency can validate transactions and earn Staking rewards.
Benefits of Staking
Energy Efficiency: Staking is generally considered more energy-efficient compared to mining.
Earning Potential: Staking offers a way to earn passive income on your cryptocurrency holdings based on the staking rewards.
Network Support: By staking, you help to maintain the security and integrity of the blockchain network.
7.2. How to Stake Cryptocurrencies on MEXC
To engage in staking on MEXC, follow these steps:
Step-by-Step Guide to Staking on MEXC
Log Into Your Account: Sign in to your MEXC account.
Navigate to Staking Options: Go to the 'SPOT' tab and look for 'Savings' where you will find various staking products.
Choose a Staking Product: Browse through the list of available cryptocurrencies that you can stake. Each option will have its own expected annual yield and terms.
Review Terms: Click on the specific staking product to read more about the staking period, minimum amount, and interest rate.
Stake Your Assets: Enter the amount you wish to stake and confirm your participation to start earning staking rewards.
Points to Consider
Lock-Up Period: Some staking options require you to lock your funds for a certain period, during which you cannot sell or move your cryptocurrency.
Minimum Amounts: There may be a minimum staking requirement for participation in a staking pool.
Yield Calculation: Understand how the yield is calculated, as it can be based on a variety of factors including network conditions and total staking volume.
7.3. Other Earning Opportunities on MEXC
In addition to staking, MEXC provides other opportunities for users to earn from their cryptocurrency holdings.
Alternative Earning Options on MEXC
Savings Products: Flexible savings accounts that allow you to earn interest on your crypto assets without locking them up.
Liquidity Mining: Contribute to liquidity pools to earn a share of the trading fees generated by the pool's trading activity.
Exclusive Token Launches: Participate in token launches through the MEXC Launchpad program to purchase new tokens at an early stage.
Referral Program: Invite new users with your referral code and earn a commission from their trading fees.
By utilizing these earning features, you can tailor your investment strategy on MEXC to suit your risk preferences and financial goals, whether you're looking for consistent staking returns or exploring varied earning products for potential higher yields. Always ensure you're familiar with the terms and conditions of each product, and approach each investment opportunity with due diligence.
How to Make A Withdrawal from MEXC
Withdrawing your cryptocurrency holdings from MEXC is a straightforward process. Whether you're on the website or using the MEXC app, the steps to withdraw your crypto are user-friendly and secure.
I. How to Make A Withdrawal on the Website
To withdraw from the MEXC website, follow these simple steps:
Log in to MEXC: Visit the official MEXC website and log in to your account. Click on [Wallets] located at the top right corner of the page.
Access Withdrawal Page: Inside your wallet, click on [Withdraw].
Select Cryptocurrency: Choose the crypto that you want to withdraw from the dropdown list.
Withdrawal Details: Enter the withdrawal [Address] where you want to send your crypto and select the correct [Network] that corresponds with your withdrawal address. Afterward, fill in the amount you wish to withdraw in the [Amount] field.
Verification: Double-check your withdrawal [Address]. Obtain an email verification code, enter it, and also provide the [Google Authentication Code] for added security. Click [Submit] once you verify all the information is correct.
Confirmation and History: Wait for the network to process the withdrawal. You can monitor the status of your withdrawal by navigating to [Wallets] → [Transaction History] → [Withdrawal].
II. How to Make A Withdrawal on the MEXC App
The MEXC App also offers a smooth withdrawal experience:
Wallets Overview: Tap on [Wallets] in the bottom-right corner of the app to view your portfolio. Select [Overview].
Spot Wallet: Within your wallet, select [Spot] to find your spot assets.
Crypto Selection: Search for and select the cryptocurrency you wish to withdraw.
Network and Address: Pick the appropriate withdrawal [Network] for your transaction. Enter or paste the [Withdrawal Address] where you want your crypto sent. If you've set up a whitelisted address, you can select it quickly by tapping the bookmark icon.
Finalize Withdrawal: After verifying all details are correct, click [Confirm Withdrawal]. Enter any required verification codes. Once the withdrawal has been made, you can track its progress with the TxID.
III. Things To Note
Network Compatibility: For cryptocurrencies like USDT that are available on multiple networks, make sure to select the network that matches your withdrawal address.
Memo Requirement: If you are withdrawing to a platform that requires a Memo (or Tag), make sure to copy and enter this information correctly, as failing to do so may result in the loss of your assets.
Invalid Address Error: Should you encounter an [Invalid Address] message, double-check the entered address for any mistakes or reach out to Customer Service for assistance.
Withdrawal Fees: The fees for withdrawing different cryptocurrencies vary. You can view these fees on the [Withdraw] page by looking at the [Network] tab.
Fee Information: The [Withdrawal fee] for the specific cryptocurrency you are withdrawing can be found on the withdrawal page.
By following these detailed steps and taking note of the important reminders, you can ensure a safe and successful withdrawal of your crypto assets from MEXC to your personal wallet or another exchange.
MEXC Mobile App: Trading on the Go
The MEXC Mobile App brings the full functionality of the MEXC trading platform to your smartphone, enabling you to manage your portfolio, execute trades, and access market data from anywhere at any time. Here's how to get started and make the most of the MEXC mobile trading experience.
9.1. Downloading and Setting Up the Mobile App
Steps to Get Started:
Download the App: Visit the App Store (for iOS devices) or Google Play Store (for Android devices) and search for the "MEXC" app. Make sure you download the official app to ensure the security of your data and assets.
Install the App: Click on the 'Install' or 'Get' button to download the app onto your mobile device.
Open the App and Sign In: Once installed, open the app. You'll be prompted to log in or sign up. Existing users can log in with their credentials, while new users can create an account directly within the app.
Set Up Security Features: For your account's safety, it's advisable to set up additional security measures offered in the app, such as fingerprint recognition, Face ID, or a passcode.
Familiarize with the Interface: Spend some time exploring the app's interface to understand where different features are located, such as your wallets, market data, trading interfaces, and account settings.
9.2. Mobile Trading Features
The MEXC mobile app is designed to offer a seamless trading experience with a variety of features:
Real-Time Market Data: Access real-time quotes, charts, and market data for a wide range of cryptocurrencies.
Trading Execution: Buy and sell cryptocurrencies with just a few taps. You can execute market orders, limit orders, and more, just like on the desktop platform.
Price Alerts: Set up price alerts to receive notifications when your target cryptocurrencies hit certain prices.
Interactive Charts: Utilize interactive and customizable charts to perform technical analysis directly on your mobile device.
24/7 Trading: The mobile app allows you to trade at any time, even when away from your computer, ensuring you never miss a market opportunity.
9.3. Managing Your Portfolio from the Mobile App
Managing your portfolio on the go is one of the key benefits of the MEXC mobile app:
Portfolio Overview: Keep track of your assets and portfolio performance. The app provides a clear breakdown of your holdings and their current value.
Deposits and Withdrawals: Securely deposit or withdraw your funds directly through the app. You can transfer funds to and from your MEXC account anywhere, anytime.
Transaction History: Review your transaction history to keep track of your trading activity and monitor the performance of your investments.
Staking and Earning Programs: Participate in staking or other earning programs offered by MEXC directly through the app.
Security Management: The app allows you to manage security settings, change passwords, and set up two-factor authentication for increased protection.
By utilizing the MEXC mobile app, you gain the flexibility to trade and manage your cryptocurrency portfolio without being tied to a desktop, ensuring that you stay connected to the markets and your assets no matter where you are.
Tips for Secure and Efficient Trading on MEXC
To make the most of your trading experience on MEXC, it's essential to combine security with efficiency. Here are some tips to help you trade safely and effectively.
10.1. Best Security Practices
Enable 2FA (Two-Factor Authentication): Always secure your account with two-factor authentication, such as Google Authenticator. It adds an extra layer of security beyond just a password.
Use Strong, Unique Passwords: Create a strong password that is unique to your MEXC account. Avoid reusing passwords from other sites.
Regularly Update Your Security Settings: Regularly review and update your security settings. Change your passwords periodically, and check the sessions logged into your account.
Beware of Phishing Attempts: Be cautious of emails, messages, or websites that impersonate MEXC. Always access your account directly through the official MEXC website or app.
Withdraw Funds to Personal Wallets: For large sums or long-term holdings, consider withdrawing funds to your personal, secure wallet.
10.2. Keeping Track of the Market and Your Trades
Utilize the Market Analysis Tools: MEXC provides various tools for technical analysis. Use these tools to make informed decisions.
Maintain a Trading Journal: Keep a record of your trades, including the rationale for your decisions and the outcomes. This can help you learn from past trades.
Stay Informed: Follow news and developments in the cryptocurrency space, as they can quickly affect market prices.
10.3. Using Alerts and Notifications
Set Price Alerts: Use the MEXC app to set up price alerts for your favorite cryptocurrencies to stay informed of market movements.
Enable Push Notifications: Ensure that push notifications are enabled for your MEXC app to receive immediate updates about your account activity and trades.
Troubleshooting Common Issues on MEXC
Even with a user-friendly platform like MEXC, you may occasionally encounter issues. Here's how you can resolve some common problems.
11.1. Customer Support Channels
Help Center: The MEXC Help Center is a comprehensive resource for FAQs and troubleshooting guides.
Live Chat Support: For immediate assistance, use the live chat feature available on the MEXC platform.
Support Tickets: If you need help with specific issues, submit a support ticket through the MEXC website or app.
Social Media and Community Support: Reach out to MEXC via their official social media channels or join their community groups for assistance.
11.2. Resolving Deposit and Withdrawal Issues
Check Network Status: If a deposit or withdrawal is delayed, check the status of the blockchain network for congestion or maintenance.
Verify Transaction Details: Ensure that the deposit or withdrawal addresses are correct and that you've selected the appropriate network.
Contact Support: If you cannot resolve the issue, provide the transaction hash or ID to MEXC support for further assistance.
11.3. Account Access Problems
Reset Password: If you've forgotten your password, use the password reset feature on the login page.
2FA Issues: If you're having trouble with 2FA, use the backup codes you saved when setting up 2FA, or contact support for help.
Account Review: In the case of locked accounts or security alerts, reach out to customer support for an account review.
By following these tips and knowing how to troubleshoot common issues, you can enjoy a more secure and efficient trading experience on MEXC. Always prioritize security and stay vigilant to protect your assets and personal information.
Conclusion: Maximizing Your Trading Experience on MEXC
As we wrap up this comprehensive tutorial on using the MEXC crypto exchange, remember that the platform offers a plethora of tools and features designed to cater to both beginners and seasoned traders. By setting up your account securely, funding it conveniently, engaging in spot and futures trading, leveraging advanced tools, and utilizing the staking and earning options, you have the opportunity to craft a dynamic and potentially profitable trading journey.
Always approach trading with a strategy and the knowledge that while there are opportunities for profit, there are also risks. Use the tools provided by MEXC to manage your risks, stay updated on market trends, and secure your assets.
Frequently Asked Questions (FAQs):
Is MEXC Safe?
MEXC employs industry-standard security measures, including SSL encryption, wallet security, and internal risk control protocols. The exchange also encourages users to secure their accounts with strong passwords and two-factor authentication (2FA).
Is Crypto Trading Profitable?
Crypto trading can be profitable, but it's not without its risks. Profitability depends on one's trading strategy, market knowledge, ability to manage risks, and sometimes, sheer luck. It's vital to do thorough research and start with small investments if you're new to trading.
Where is MEXC restricted?
As of 2023 MEXC does not provide Services, nor do they accept registration of users in the following countries: North Korea, Cuba, Sudan, Syria, Iran, Crimea, Mainland China, Indonesia, Singapore, Venezuela, the United States, and Canada.
Does MEXC require KYC?
MEXC does not require KYC identity verification to access trading, however completing KYC allows users to access additional assets and other privileges. MEXC offers three levels of account tiers: Unverified (no KYC), Primary KYC, and Verified Plus.
Glossary of Crypto Terms:
2FA (Two-Factor Authentication): An additional security layer requiring two methods (usually a password and a verification code) to verify a user's identity.
Spot Trading: Buying and selling of cryptocurrencies for immediate delivery.
Futures Trading: A contract to buy or sell a particular cryptocurrency at a predetermined price at a specified time in the future. In crypto market we have perpetual futures with no specified time.
Stop-Loss Order: An order placed to sell a security when it reaches a certain price, designed to limit an investor's loss on a trading position.
Take-Profit Order: An order placed to sell a security once it reaches a certain price point, ensuring a profit.
API (Application Programming Interface): A set of protocols for building and interacting with software applications.
Margin Trading: Trading assets by using funds provided by a third party. It involves borrowing capital to increase the size of a trading position.
Staking: Participating in a network's operations by holding funds in a wallet to support the network's functionality and, in return, earning rewards.
Withdrawal Limit: The maximum amount of cryptocurrency that can be withdrawn from an account within a given time frame.
TxID (Transaction ID): A unique string of numbers and letters that record transaction details on the blockchain.
MEXC provides a robust platform for engaging with the fast-paced world of cryptocurrency trading.
Embrace the learning curve, stay vigilant with your security, and continuously educate yourself to maximize your trading experience on MEXC.
Happy trading!
P.S. this article contains affiliate links. Nothing here constitutes a financial advice and everything is written for an educational purpose. Before trading crypto you need to understand risks and do your own research.